SSR Resident Education Club (REC)
The Society of Skeletal Radiology (SSR) is excited to continue our SSR Resident Education Club (REC). This monthly live, interactive webinar lecture series is intended for residents interested in learning about musculoskeletal radiology. We will be covering a diverse set of topics related to diagnostic and interventional MSK radiology. The lectures will be given by SSR members in a 45-minute format consisting of case presentations (30 minutes) and question/answer sessions (15 minutes).
Our next webinar will cover the topic of Osteomyelitis, the Septic Joint, and Other Musculoskeletal Infections and will be presented by Dr. Alessandra Sax, MD, a musculoskeletal radiologist at Warren Alpert Medical School at Brown University. This webinar will take place on Wednesday, October 12th from 7-7:45 pm (ET).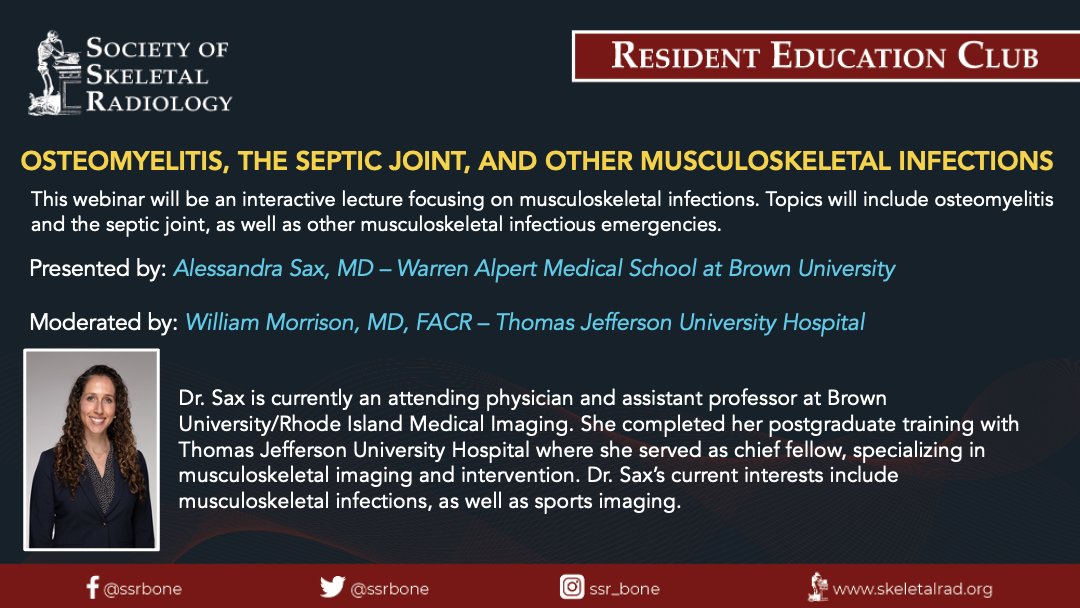 While the REC is intended for residents, all are welcome. 
All recordings of our past webinars can be found on the SSR YouTube Channel.
Webinar Schedule 
DATE / TIME

SESSION / SPEAKERS

REGISTRATION INFO

YOUTUBE VIEWING

09/14/2022
7:00PM - 7:45PM (ET)

MRI of the Shoulder, A Case Based Review

Presented by Navid Faraji, MD

 

https://youtu.be/gXRiTm5EWm4 
10/12/2022
7:00PM - 7:45PM (ET)
Osteomyelitis, The Septic Joint, and Other Musculoskeletal Infections
Presented by Alessandra Sax, MD
 Register Now

 

10/19/2022
7:00PM - 7:45PM (ET)
MSK Fellowship Panel – SSR REC/Resident Fellowship Education Committee
 Register Now
 
11/16/2022
7:00PM - 7:45PM (ET)

Magnetic Resonance (MR) Neurography

Presented by Darryl Sneag, MD

 

 
12/14/2022
8:00PM - 8:45PM (ET)
MSK AI
Presented by Matthew Li, MD

 

 

01/18/2023
7:00PM - 7:45PM (ET)
Approach to Hip MRI
Presented by Angela Atinga, MB, BChir FRCR (UK), Assistant Professor

 

 

02/16/2023
7:00PM - 7:45PM (ET)
How to perform an image-guided joint injection: Hip
Presented by Rina Patel, MD
 

 

03/8/2023
8:00PM - 8:45PM (ET)
Commonly Missed Fractures of the Foot and Ankle
Presented by Karen Chen, MD
 

 

04/12/2023
7:00PM - 7:45PM (ET)
Management of Incidental Bone Lesions
Presented by David Gimare, MD
 

 

05/17/2023
7:00PM - 7:45PM (ET)
Dynamic Musculoskeletal Ultrasound for Problem Solving
Presented by Yoshimi Endo, MD
 
 

06/14/2023

7:00PM - 7:45PM (ET)

How to Be a Carpal Boss: An Approach to Wrist MRI
Presented by Dana Lin, MD
 
 
Resident Education Club: Season 1
DATE / TIME

SESSION / SPEAKERS

YOUTUBE VIEWING

09/15/2021
Approaching the Knee MRI
Presented by Artemis Petrides, MD
https://youtu.be/3256huG3qZU 
10/20/2021
Shoulder Injections
Presented by Lindsay Stratchko, DO
https://youtu.be/iOINhTxqOX0 
11/17/2021
Orthopedic Implant Complications
Presented by Megan Mills, MD
 https://youtu.be/cvyhGc6JT0M
12/15/2021
Exploring the World of Advanced Image-Guided Spine Interventions
Presented by Corey Ho, MD
https://youtu.be/-zwMKQzfj8Q 
01/12/2022
Musculoskeletal Tumor Imaging
Presented by Blake Jones, MD
https://youtu.be/IQmRHJnUYbQ 
02/16/2022
How to Perform an Image-Guided Biopsy
Presented by Mohammad Samim, MD
https://youtu.be/fYEYKpNr5x0 
03/16/2022
Private Practice, Academia, & the MSK Radiology Job Market Outlook
Presented by Michael Trakhtenbroit, MD
https://youtu.be/bzcijYpV9hs 
04/20/2022
Advanced Imaging of the Pro Athlete
Presented by Jeff Belair, MD
https://youtu.be/ACiKb9hXvjA
05/18/2022
Beginning Personal Finance for Trainees
Presented by Travis Hillen, MD
 https://youtu.be/soGidWxaDP0

06/15/2022

Pediatric MSK: Imaging of Normal and Abnormal Growth Plates
Presented by Jie Nguyen, MD
 https://youtu.be/AOahjpEMuFI