MSK FELLOWSHIP MATCH
We have begun the first steps for the 2023 MSK Fellowship Match. The Memorandum of Understanding (MOU) documents have been sent out. Please make sure to submit the signed documents by August 2, 2022. The SSR will serve as the sponsoring organization with the National Resident Matching Program (NRMP) managing the Match process. We will abide by the NRMP All In Policy, which means that all applicants (including internal applicants) who wish to be considered for an MSK fellowship position at a program that participates in the MSK Match must register for the Match.
In response to the ongoing pandemic and health concerns, all fellowship interviews will be virtual this year.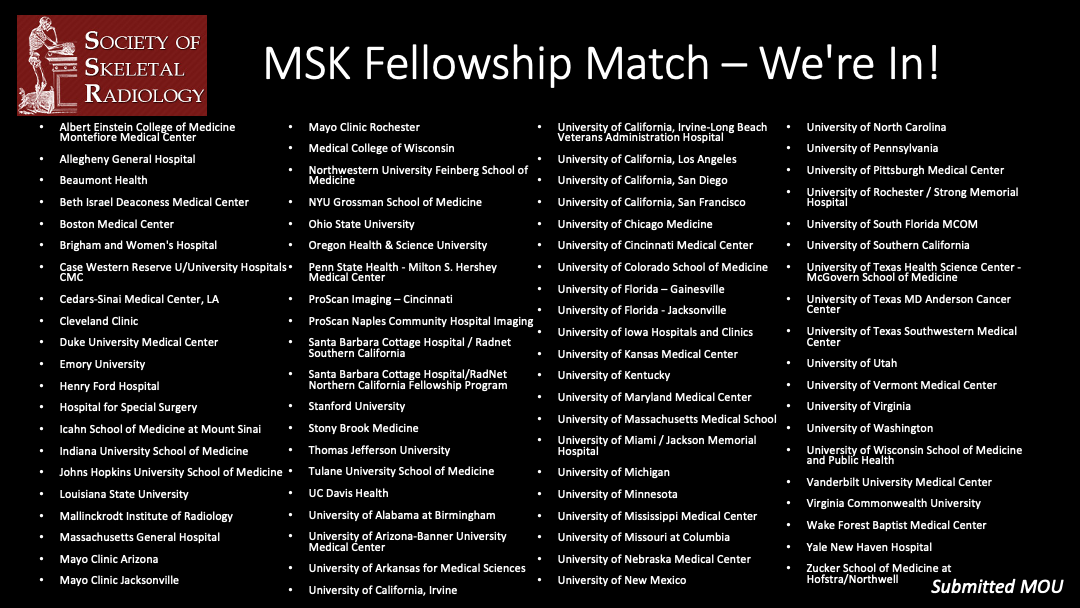 MSK MATCH TIMELINE (dates subject to change)
August 1, 2022: Programs can start accepting applications

November 7, 2022: MSK Fellowships can begin interviewing applicants

March 23, 2023: Match Opens

March 31, 2023: Programs complete interviews

April 20, 2023: Rankings Open

May 18, 2023: Quota Change Deadline

June 1, 2023: Rank Order List Deadline

June 15, 2023: Match Day
*Canadian program are exempt from the MSK Match and have their own interview, application and selection process and timeline
All fellowship programs, match and non-match, must abide by the November 7, 2022 embargo date for interviews and stop interviewing by March 31, 2023 to avoid conflict with Core Exam studying. Per SCARD policy, all interviews should be virtual, and no onsite visits should be made by candidates.
SCARD is also mandating a 7 calendar day grace period between offers of positions and the need for the applicant to either accept or decline the offer for all non‐match programs.
FREQUENTLY ASKED QUESTIONS (FAQs)
During the 2019 SSR Annual Meeting, we held an MSK fellowship Q/A session for members who had questions about the upcoming match. We have listed the most popular questions below with responses from the NRMP. We hope you find these helpful.
CLICK HERE FOR QUESTIONS FROM THE ANNUAL MEETING 
MSK FELLOWSHIP COMMON APPLICATION FORM
SSR has developed a Common Application Form that is available for download on the SSR website for programs that elect to use it. Applicants must confirm with each program to which they want to apply whether or not that program accepts the Common Application Form, or uses their own unique application. The MSK Match is not eligible for the ERAS application service.
CLICK HERE FOR COMMON APPLICATION
CONTACTS
Communication is critical as we begin the next phase of this process. Please contact the SSR if there are any changes in the status of your MSK fellowship, fellowship director or program coordinator.  Make sure that you follow the SSR Facebook page and Twitter feed (@SSRbone).
We thank you for your participation in this process, and look forward to working with you for a successful 2022 MSK Radiology Fellowship Match.
Sincerely,
SSR Executive Committee
SSR Resident and Fellow Education Committee